Diamond Core Drill Bits
For core drilling any material, Elliott Diamond Core Drill bits outperform and outlast other tools. Stability, durability and economy, with 40 years of experience at your service!
Diamond Saw Blades
Diamond Saw Blade performance depends on quality diamond abrasive, precise formulation, and strict manufacturing processes. Elliott Diamond blades are engineered to maximize productivity for your specific material and machine.
Welcome to
Elliott Diamond
Since 1972
Elliott Diamond has manufactured Diamond Sawblades for over 40 years.
Let us build you a better blade!
40 years experience
Family business
High Quality
American company
Professional customer service
Win - Win
Why Choose Elliott Diamond?
Our diamond segments utilize the highest standard of materials and manufacturing technology, supported by 40 years of experience in cutting hard materials. With Elliott Diamond you can expect;
maximum tool stability,
diamond segments specified for the material you are cutting,
durability and performance that allow you to reduce costs,
expert technical advice with one phone call
Looking for the best cutting solution? It's Elliott Diamond..
Who is Elliott Diamond?
Elliott Diamond Inc. was founded in 1972 by William F. Elliott Sr.. At the time Bill was 56 years old and had over 30 years experience in Diamond Tool Research, Development, and Manufacturing for American Coldset in New Jersey and Sprague and Henwood in Pennsylvania. Preparing for eventual retirement and seeking a warmer climate, Bill moved to Florida and started his own diamond tool manufacturing plant, Elliott Diamond Inc..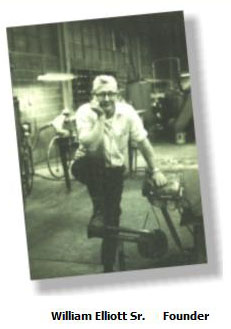 Read more